Germany vs Great Britain. Prediction for the EuroBasket match
After two rounds in group C, Germany and Great Britain have the same number of points. How will the head-to-head confrontation of the rivals end? Prediction and rates will give an answer to this question.
Our Expert Predictions & Analysis on Germany vs Great Britain
Germany
Germany has taken the first step towards reaching the playoffs. In the previous match, the wards of Lisa Tomaidis defeated Slovenia (66:62). Thus, the Bundesteam managed to jump to the third line in the standings. The team is one point ahead of Slovenia.
It is worth noting that Germany looks pretty good at this tournament. In the opening match, for example, the team resisted France (50:58).
Great Britain
The UK hasn't looked the best lately. Before EuroBasket, José Buqueta's team lost several friendly matches. However, they won their first match at the tournament, defeating Slovenia (76:71).
In the second match, Britain's opponent was France. It was not possible to fight one of the best teams in Europe. The British lost with a score of 57:63.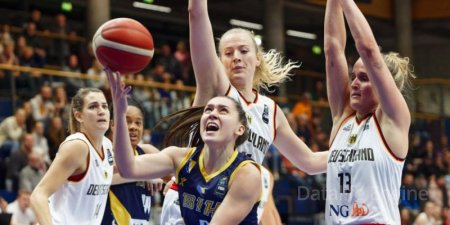 Germany vs Great Britain facts
Germany total over 64.5 points - The Germans have scored more than 64 points in 3 of their last 4 games;
1st quarter: total under 33.5 points - in the last three matches of Germany, this mark did not break through.
Game Totals Prediction
We are waiting for a meeting of approximately equal teams. None of them were remembered for anything special at the tournament, so in a face-to-face confrontation, the scales can swing in any direction. It is possible that Germany will win the match. Might be worth the risk.
Our prediction is Germany's victory for 2.27 in
Mostbet
.
In two matches of Germany in this tournament, no more than 26 points were scored in one of the quarters. It seems that something similar will happen in the confrontation with Great Britain.
Prediction - the total of the most ineffective quarter is less than 26.5 points. In BC Fonbet, such a bet can be placed for 1.78.