Belgium vs Serbia. Prediction for the EuroBasket match
Belgium beat Serbia twice last year. What to expect from these teams in the duel on June 22? Prediction and rates will give us the answer to this question.
Our Expert Predictions & Analysis on Belgium vs Serbia
Belgium
Belgium brought combat squad to EuroBasket. Julie Wanlu, Emma Misseman, Kayre Linkens - able to open any defense. Largely thanks to the powerful game of these basketball players, they managed to win all the matches in the tournament.
The most difficult for Belgium was the duel with Italy, in which a victory was obtained with a score of 72:64. In other matches, the wards of Rashid Mezian left no chance for the Czech Republic (84:41) and Israel (108:59). 
Serbia
At the stage of the group stage, Serbia unpleasantly surprised. In the last match, the wards of Marina Malkovich unexpectedly lost to Hungary (75:81). This defeat cost the team the first line in the group. Because of this, the Balkans did not receive a direct ticket to the quarterfinals.
In the ⅛ final, Serbia's opponent was the UK team. Even with such an opponent, Malkovich's wards had some problems. The opponent was beaten with a score of 66:60.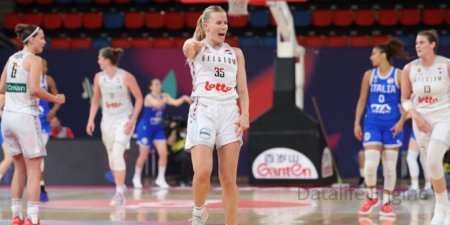 Belgium vs Serbia facts
Belgium total over 72.5 points - Mezian's side have scored more than 72.5 points in 3 of their last 4 games;
First quarter: Total over 35.5 points - 3 of Belgium's last 4 games have hit this mark.
Game Totals Prediction
At the EuroBasket, both opponents demonstrate a very productive game. Hungary has not scored less than 72 points in recent matches, and Serbia has 81 points in 2 out of 3 matches. Given these figures, we believe that the face-to-face meeting will turn out to be very spectacular.
Our prediction is over 139.5 points for 1.73 in
Mostbet
.
Belgium looks very confident in the tournament, but Serbia may well put up some serious resistance. The Balkans have a good selection of performers. It is unlikely that they will leave the site without resistance.
Prediction - Serbia with a handicap (+9.5) points. In Mostbet, such a bet can be placed for  1.61.
As part of Serbia, Anderson is actively gaining points, but gives few assists. For example, in 3 of the last 5 matches, she did not perform more than three assists. Most likely, in the confrontation with Belgium, Yvonne will not perform better.
Predication - Yvonne Anderson: total over 3.5 assists. In Mostbet, such a bet can be placed for 1.77.