Galatasaray vs Fenerbahce. Prediction for the Turkish Championship match
Fenerbahce have won their last three matches. How will the Canaries perform in the match with Galatasaray? Bets and prediction for the match will answer the question.
Our Expert Predictions & Analysis on Galatasaray vs Fenerbahce
Galatasaray
The Lions' first opponents in the regular season were Merkezefendi and Manisa. There were no problems with these teams and Galatasaray easily beat them. However, then the team from Istanbul started having problems and lost to Petki Spor (74:76).
Before the meeting with Fenerbahce, Galatasaray played unsuccessfully in the Champions League. At home, the "lions" lost to the Greek PAOK (77:88). They are not approaching the Turkish Championship match in the best mood.
Fenerbahce
Fenerbahçe also has one defeat in the Turkish Championship. At the beginning of October, the "canaries" unexpectedly lost to "Pinaru" (79:84) on the road. However, they played much better in the following matches.
In the last round, Fenerbahce left no chance for Bahcesehir, defeating the opponent with a score of 113:98. Inspired by the success of the "canaries" in the Euroleague, they also slammed Panathinaikos (83:69) and ASVEL (101:86).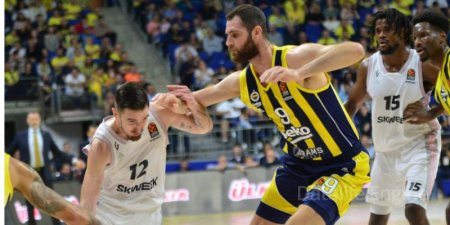 Galatasaray vs Fenerbahce facts
Total Fenerbahce under 86.5 points - in 3 of the last 5 matches, the players of this team did not score more than 86 points;
1st quarter: total less than 40.5 points - in 3 of Galatasaray's last 5 matches this mark was not reached.
Game Totals Prediction
Galatasaray is a client of Fenerbahce. The Canaries regularly beat the Lions and do so confidently. It is unlikely that anything will change significantly now. At the moment, Galatasaray is in crisis and does not demonstrate confident play. Most likely, Fenerbahçe will not have any problems.
Our prediction is Fenerbahce with a handicap (-6) points for 1.77 in
Mostbet
.
Galatasaray has some problems with the game in attack, because in the last two matches it did not even score 80 points. It is unlikely that with such actions one can count on the meeting being successful.
Prediction – total less than 166.5 points. In Mostbet such a bet can be placed for 1.72.
No matter how bad Galatasaray played, in the last match of this team, less than 35 points were scored in any quarter. We expect that nothing will change now. 
Prediction – the total of the most ineffective quarter is more than 34.5 points. In Mostbet such a bet can be placed for 1.83.