Jessica Andrade vs Tatiana Suarez. Prediction for the fight
Mixed martial arts fighter in the women's minimum weight category Jessica Andrade will face Tatiana Suarez at the Ultimate Fighting Championship tournament. Will the Brazilian be able to beat the American in the UFC on ESPN 50 fight in Nashville on August 6 and what bets should be chosen?
Our Expert Predictions & Analysis on Jessica Andrade vs Tatiana Suarez
Jessica Andrade
Jessica Andrade is a former UFC champion. She is ranked fifth in the division rankings. The 31-year-old Brazilian has 24 wins (nine by knockout, seven by decision, eight by submission) and 11 losses. Bate Estaca lost their last two fights, losing to Erin Blanchfield (submission) from the United States and Chinese Xiaonan Yang (knockout).
However, before that she won three victories in a row. In January 2023, the Hispanic defeated the American Lauren Murphy. Andrade holds a black belt in Brazilian Jiu-Jitsu.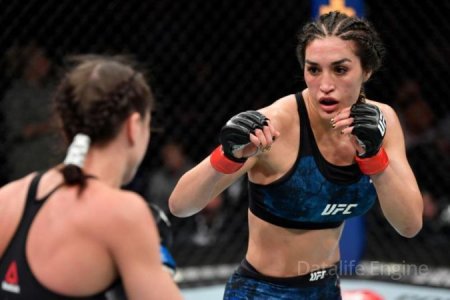 Tatiana Suarez
Tatiana Suarez is the champion of the 23rd season of The Ultimate Fighter reality show. She is ranked tenth in the division rankings. The 32-year-old American has 11 wins (two by knockout, three by decision, six by submission) and no defeats. In the last fight, Suarez defeated her compatriot Montana De La Rosa (submission). Tatiana has a brown belt in Brazilian Jiu-Jitsu. 
Jessica Andrade vs Tatiana Suarez facts
Suarez win by knockout - Suarez has two wins by knockout.
Fight prediction
Analysts of bookmakers consider Suarez the clear favorite for the upcoming fight. The athlete from California has not yet suffered a single defeat at the professional level. On account of her six early victories in nine fights. Everything goes to the fact that this time the fight will not go the whole distance.
Our prediction is an early victory for Suarez in 3.10 in
Mostbet
.