Göttingen vs Bayern. Prediction for the match of the championship of Germany
On May 21, Göttingen will try to defeat Bayern at home. Will the wards of Roel Murs succeed in this? Bets and prediction for the match will answer the question.
Our Expert Predictions & Analysis on Göttingen
Göttingen
Göttingen looked pretty good in Munich. Murs' wards lost the first match of the series with a difference of 20 points, but in the second they put up serious resistance to the favorite. The team from Lower Saxony had a chance to win until the final whistle, but still lost with a score of 85:87.
Geno Krendell can be singled out in the Göttingen squad. The defense of Bayern failed to stop the American, he scored 28 points, three rebounds and four assists.
Bayern
Bayern entered the playoffs on a series of three defeats in a row. It seemed that these failures would affect the actions of Andrea Trinchieri's wards, but in the confrontation with Göttingen they played very confidently.
In the last match, the leaders of Bayern did not show a confident game. Smith and Wailer-Babb scored 13 and 12 points respectively, but things could change in the next fight. The performance of the team from Munich will depend on their actions.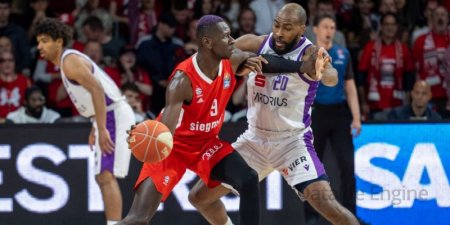 Göttingen vs Bayern facts
Göttingen total over 77.5 points - Murs's side have scored more than 77 points in 3 of their last 5 games;
Winston's point total under 12.5 - Cassius has not scored more than 12 points in 4 of his last 6 games.
Game Totals Prediction
In the previous match, the teams scored 172 points. It is likely that nothing will change significantly in the next match. Goettingen's players must play confidently in attack on their court, so we expect that the meeting will turn out to be quite productive. Still, in Munich they looked very confident
Our prediction is over 159.5 points for 1.78 in
Mostbet
bookmaker.
Göttingen could have beaten Bayern in the previous match, but the team was a bit unlucky. Perhaps, Murs' wards will perform better on their site. At the very least, they are obliged to fight the favorite.
Prediction - "Göttingen" with a handicap (+8.5) points. In Mostbet, such a bet can be placed for 1.69.
In the previous 2 out of 3 head-to-head meetings, no more than 46 points were scored in one of the quarters. In connection, we doubt that now something will change significantly.
Prediction - the total of the most productive quarter is less than 46.5 points. In Mostbet, such a bet can be placed for 1.80.