Lithuania vs Mexico. Prediction for the match of the World Cup
Lithuania on August 27 is waiting for a meeting with the national team of Mexico. Will the European team be able to get a second victory in the tournament? Bets and prediction for the match will answer the question.
Our Expert Predictions & Analysis on Lithuania vs Mexico
Lithuania
In the opening match, the Lithuanians had no problems. Too confident they coped with the Egyptian team. The first quarter wards Maksvytis won with a difference of 14 points and with each segment increased the gap in the score. As a result, Lithuania won with a score of 93:67.
The best in his team was Margiris Normantas. The 26-year-old Rytas defender scored 18 points.
Mexico
In the starting round, the Mexicans fell under the ice rink of the Montenegrin team. No matter how hard Quintero's wards tried, they failed to oppose anything to the favorite. Even Francisco Cruz's 16 points didn't really help Mexico. She lost with a score of 71:91.
It will be difficult for the Mexicans to count on success, because their selection of players is not of the highest level. In addition to Bonilla, who represents Barcelona, the other performers defend the colors of the teams from the domestic championship.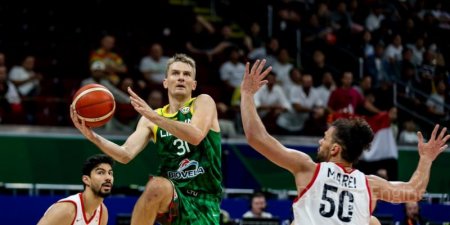 Lithuania vs Mexico facts
Total of Mexico over 73.5 points - in 3 of the last 5 matches, the Mexicans scored more than 73 points;
1st quarter: total over 40.5 points - in 3 of the last 4 matches of Mexico, this mark was broken through.
Game Totals Prediction
Mexico lost to Montenegrins with a difference of 20 points. Most likely, Latin Americans will again suffer a similar fate. The Lithuanians are perhaps stronger than the Balkan team, so the gap in the score may turn out to be more devastating. We believe that the Europeans will not leave a chance to the opponent.
Our prediction is Lithuania with a handicap of (-15.5) points for 1.80 in
Mostbet
.
The Mexicans failed to stop Montenegro. It is unlikely that they will be able to do this with Lithuania. It is likely that the duel will turn out on horseback.
Prediction - total over 158.5 points. In Mostbet, such a bet can be placed for 1.68.
Both teams are good in attack. The same Mexico scored 71 points in the previous match. In this regard, we suggest betting on the fact that there will be a productive game in all quarters.
Prediction - the total of the most ineffective quarter is more than 33.5 points. In Mostbet, such a bet can be placed for 1.85.