Benfica vs Porto. Pediction for the Portuguese championship match
Benfica beat Porto in the Super Cup at the start of the season, but will the Eagles be able to repeat their momentum in the championship on September 29 - the answer is in prediction. Which bet should I choose?
Our Expert Predictions & Analysis on Benfica vs Porto
Benfica
Benfica is spending the season at a very high level - the Eagles started it with a victory over Porto in the Super Cup. In the championship, Roger Schmidt's team has made only one mistake so far and with 15 points is in second place in the table, only one point behind leader Sporting and second Porto.
Porto
"Porto" is spending the season quite well, but Sergio Conceição's team will certainly be able to improve their performance. So far, the "dragons" are second in the table and in terms of additional indicators they lag behind the leader Sporting. Having beaten Gil Vicente 2:1 in the last round, Porto extended its unbeaten streak in the championship to 12 matches.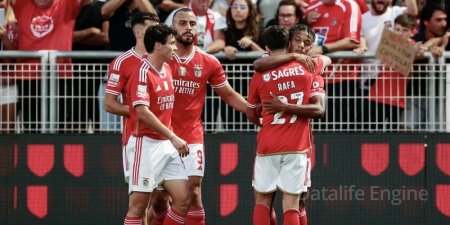 Benfica vs Porto facts
Correct score 2:1 - two of Porto's last four away matches ended with this score;
Benfica will score in the first half - Benfica have scored in the first half in their last four league games;
"Porto" will score in the first half - this bet has been successful in Porto's last three matches.
Game Totals Prediction
Benfica makes mistakes from time to time, but overall they are in excellent shape and will certainly try to make the most of it today and beat their opponents in the table. The Eagles are impressive in attack, scoring 16 goals in six matches. "Porto" is far from perfect in defense, but at the same time, the "dragons" are highly efficient and will certainly try to take revenge for their defeat in the Super Cup.
We believe that there will be goals in the match. Prediction: both will score. In
Mostbet
this outcome is offered with odds of 1.75
"Benfica" is below "Porto" in the table, but in terms of their performance, the "eagles" look objectively stronger, brighter, and scored a lot more goals. In addition, the hosts have a wider and higher-quality reserve, which is certainly very important in such a crazy regime in which both teams are. It makes sense to give preference to the owners.
We believe that the guests have no chance. Prediction: Benfica wins. In Mostbet this outcome is offered with odds of 2.05
In matches between Benfica and Porto, the degree of fighting is always off the charts - in the Super Cup in August, the referee issued 12 yellow cards and one straight red card. Today it also makes sense to wait for warnings in large numbers.
Bet – total more than 6.5 yellow cards. Such a bet in Mostbet is offered for 1.71